PSNI renew appeal over McGeough couple's murder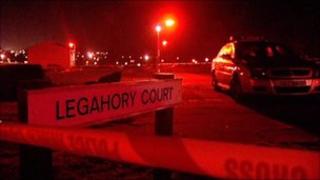 Police investigating the murder of a couple in Craigavon have renewed their appeal for witnesses.
Husband and wife, Hugh McGeough, 56, and Jacqueline McGeough, 44, were murdered at their Legahory Court home at about 1100 GMT last Monday.
Police believe the couple let whoever killed them into their home.
The PSNI returned to the scene on Monday and talked to residents to gather more information about events before and after the shootings.
The officer in charge of the investigation, Detective Chief Inspector Richard Harkness, said the community had a "collective duty" to deal with the events in a "responsible manner".
"The investigation is moving forward, but we would make more progress if people with information gave that information to police," he said.
"Some media reporting of the murders and the investigation is inaccurate, unhelpful and dangerous.
"If the killer or killers are to be apprehended and brought before the courts, I need those individuals with information to come forward and provide me with details of what they know, what they have heard or what they have seen."
Although police believe the couple were killed at about 1100 GMT, it was not until 1800 GMT, when their son called at the house, that their bodies were discovered.
'Bulletproof glass'
Their son had called at the house at tea-time last Monday after he became concerned that his mother was not answering the telephone.
A motive for the killings has not yet been confirmed, but it is understood that police are investigating a possible drugs connection.
The house where the murders happened stands isolated in the middle of a field. It is fitted with security cameras and a number of security lights. The doors and windows are fitted with bulletproof glass.
BBC NI Home Affairs Correspondent Vincent Kearney said Mr McGeough has been described as "a well-known and prolific drug-dealer".
"Hugh McGeough served a nine-year sentence for his part in the killing of Peter McNally, a 19-year-old shot about a mile away from the house in Craigavon in 2001," he said.
"That killing was said to be part of a drugs war - a feud between rival drugs gangs. There is certainly a lot of speculation about this and it is a line that the police are pursuing."
Detectives want to hear from anyone had any contact with Mr or Mrs McGeough between Sunday 6 and Monday 7 March.
They also want to talk to anyone who saw vehicles outside the couple's home at 136 Legahory Court between 1100 and 1130 GMT last Monday or who saw anyone entering or leaving the house.