NI trading conditions are 'falling at a slower rate'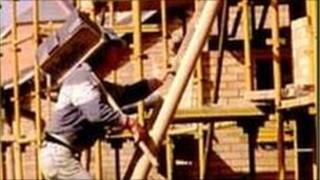 Trading conditions in Northern Ireland fell at the slowest rate in two years, a survey by the Ulster Bank has found.
The Purchasing Managers Index (PMI) figures for February found business activity continued to fall, but at the slowest rate since December 2009.
The level of new business received by private sector firms fell for the 36th consecutive month. However the fall was particularly steep in construction.
NI was the only UK region not to post a rise in workforce numbers in February.
Staffing levels decreased across NI in February, extending the current period of decline to three years.
But the rate at which job cuts were implemented continued to slow, with the latest decline the weakest since May 2010.
Staffing levels in three of the four monitored sectors, with manufacturing the exception. However, the rate of job creation was only marginal.
Ulster Bank NI chief economist, Richard Ramsey, said: "The pace of job losses eased significantly relative to January and was the weakest since May last year.
"The local manufacturing industry, however, bucked this wider trend and was the only sector to report an increase in staffing levels last month," he said.
"Firms within the service industries signalled a relatively modest decline in staff numbers, but the construction sector continues to shed workers at a rapid rate."
Mr Ramsay also said the continued growth within the UK as a whole, alongside the rebound in business activity in the Republic of Ireland, should benefit an increasing number of Northern Ireland firms in due course.