Independent Monitoring Commission submits final report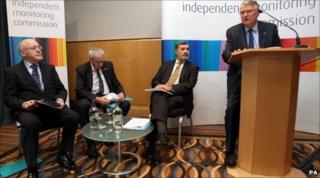 The Independent Monitoring Commission (IMC) has presented its final report to the British and Irish governments.
The group was set up in 2004 to monitor paramilitary activity and the normalisation of security measures in Northern Ireland.
It has released 26 reports since then. Its final report looks at the last seven years, from January 2004 - March 2011.
A decision was made last year to bring the commission's work to an end.
Its last report to the London and Dublin administrations is an overview of its work and an assessment of any lessons that can be learned. It will be published after the governments have examined the findings.
The Commission consisted of four members; former Assembly speaker Lord Alderdice, veteran Irish civil servant Joe Brosnan, retired assistant commissioner in the Metropolitan Police John Grieve and ex-CIA deputy director Dick Kerr.
Lord Alderdice said the devolution of policing and justice powers from Westminster to Stormont and the "bedding down" of the peace process had "paved the way for the demise of the commission".
The IMC will officially stop work on 31 March.