Pensioner 'on spending spree hunted by kidnap gang'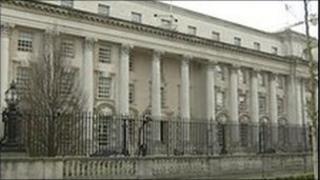 A group of pensioners may have gone on a spending spree with £100,000 from a tiger kidnapping in Belfast, a High Court bail hearing has been told.
One elderly man left NI as dissident republicans searched his home in a bid to locate him, prosecutors said.
Gerry McGlade, 66, formerly of Sliabh Dubh View, Belfast, is accused of having cash stolen from an Asda store in the city.
He was granted bail amid suggestions he allegedly "scammed the scammers".
Mr McGlade, faced charges of handling stolen goods with the prosecution alleging the cash had been left with him after the crime.
A family was held hostage overnight last November while a female member of staff was forced to go into work and hand over £100,000.
Police believe either the Real IRA or Oglaigh na hEireann dissident factions carried out the operation, according to a Crown lawyer.
Terrorist links
Mr McGlade's alleged connection only emerged in January when he phoned police while staying with a relative in Welwyn Garden City, Hertfordshire, England.
Fiona O'Kane, prosecuting, said he was interviewed and gave a statement denying any terrorist links but claiming to be in fear for his life.
She alleged that he accepted having spent tens of thousands of pounds.
Although another £28,000 had been lodged in his bank account, only £15,000 remained in it when frozen by police, the court heard.
It was claimed that Mr McGlade, who was said to have property in Bulgaria, had been buying flight tickets as part of a "dissipation" of the money.
Mrs O'Kane added that he was believed to be under threat from dissident republicans due to what he has done with the cash.
"His address was searched twice while he was out of the country in an attempt to find him," she said.
Joe Brolly, defending, declined to go into a full version of his client's account due to legal reasons, but he told the court the prosecution case was that the cash had been left with Mr McGlade while "the trail was hot".
Spree
Mr Brolly said it was alleged that his client and three other elderly friends then checked the contents of the money bag.
"I understand that's the theory that's being worked on, that this was a spree by a number of elderly men," he told the court.
The judge asked him: "They scammed the scammers?"
Mr Brolly replied: "What police believe is... when the bag was opened a flutter was taken.
"He (Mr McGlade) wasn't the only one. He took some of his elderly mates.
"The suggestion was made that there was a short period of the high life and then a phone call to police (saying) 'I don't feel so good'.
"If the prosecution case is right, a bag was left with him to hold. It basically fell out of the blue skies."
The court also heard how Mr McGlade, a former bar manager, has suffered mental health problems since being badly injured during a pub bombing in the early 1970s.
He was also taken hostage by the Provisional IRA during another incident and later developed post-traumatic stress disorder.
Granting bail to live at an agreed location, Mr Justice McLaughlin ordered Mr McGlade to surrender his passport and banned him from leaving Northern Ireland.