Claudy road death victim name released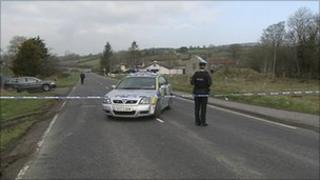 The police have released the name of a 53-year-old man who died after being hit by a van in Claudy on Monday.
Daniel O'Neill, from the Claudy area, was walking on Old Glenshane Road shortly before 2000 GMT when he was hit by a van.
The man who was driving the van was not injured.
A local councillor has urged Road Service to erect streetlights following the death.
Councillor Thomas Conway, who knew the victim, said there had been at least one other death on that stretch of road.
"I lobbied Roads Service about six years ago after a wee girl was killed to put in lights the whole way down the footpath," he said.
"Roads Service said it did not meet their criteria.
"But I'm going to be calling on them again to do it because I believe if the road was lit, that if there was someone on the footpath, or if someone walked off the footpath it would give cars a chance to see them."
The Old Glenshane Road in Claudy has been reopened following the accident.
Police have appealed for witnesses.