Hazel Stewart legal aid bill at least £77,000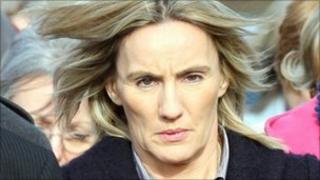 The legal aid bill for convicted double killer Hazel Stewart will amount to at least £77,000, it has emerged.
Stewart will be sentenced on Wednesday for killing her husband and her former lover's wife.
The Department of Justice has confirmed Magistrates Court fees were £15,433.
Although the Crown Court trial bill has not been received, the department said it would be at least £62,000. It currently has no power to recoup fees for convicted defendants.
It is almost a fortnight since Stewart was convicted of murdering her husband Pc Trevor Buchanan and Lesley Howell.
Their bodies were discovered in a fume-filled car in Castlerock. At the time it was thought to have been a double suicide - the truth only emerged when Colin Howell confessed to their murder.
The Legal Services Commission had previously confirmed that Stewart's legal fees for the three-week trial and earlier court hearings were paid for out of the public purse.
Criteria
However more details of the costs involved have now emerged following an Assembly question from DUP MLA Paul Givan.
Justice Minister David Ford said: "The bills for legal representation in the Magistrates Court have been assessed and paid and the total costs were £13,135.10, excluding VAT of £2,298.64.
"The (Legal Services) Commission has not received any bills for assessment for the Crown Court trial. Provisional estimates suggest that the cost is unlikely to be less than £62,000 (including VAT)."
Mr Givan said the amount of money involved highlighted the costs associated with legal aid.
"This is just one case and the final bill is likely to be higher," he said.
"We know that more is spent on legal aid here than anywhere else so there is a definite need to tighten up the criteria."
A spokesperson for the Courts and Tribunals Service said that while there are currently no powers to recoup the fees - this is being reviewed as part of the Justice Bill.
Howell is currently serving a life sentence after he pleaded guilty to the murders last year.