Progressive Unionist Party accuses HET of arrests 'bias'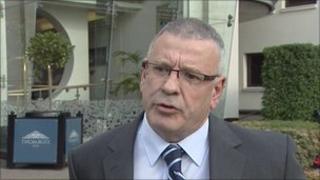 The PUP has accused the Historical Enquiries Team of concentrating on loyalist crime.
Leader Brian Ervine said there was a perception that the HET was biased.
"The lion's share of the murders were carried out by the IRA and republicans. Yet, the lion's share of the people being arrested are loyalists," he said.
The HET's Dave Cox said the figures seem skewed because of Operation Ballast, an investigation into the activities of the UVF in north Belfast.
Mr Cox said that the operation, which was carried out at the request of the Police Ombudsman's office, resulted in 65 of the 72 arrests.
"There have been seven other arrests. Two of those were from investigations into IRA murders and five were into loyalist paramilitary offences," he said.