Plan bids to cut road-racer deaths in Northern Ireland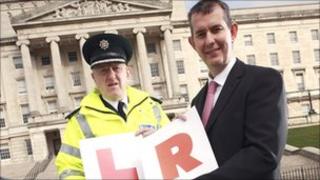 Learner and restricted drivers in Northern Ireland could be banned from driving high performances cars under proposed new road safety measures.
The move is one of a wide-ranging raft of proposals put out for consultation by Environment Minister Edwin Poots.
He is also looking at a graduated system which would allow novice drivers to gain experience while reducing risk.
The proposals include a curfew for new drivers who would have to take a minimum number of lessons.
The graduated scheme involves a series of driving stages lasting usually for three years.
It would introduce restrictions on high performance vehicles for restricted drivers and would give the novice driver experience in low risk conditions in order to reduce the risk of collision when driving alone.
It has proved successful when implemented in the US, Canada, New Zealand and Australia.
Other measures proposed in the consultation paper are: raising the minimum age for holding a licence; allowing learners to drive on motorways; amending learner driver speed limits; introducing night-time restrictions; passenger restrictions; and increasing the restriction period.
At the launch of the strategy on Tuesday, Mr Poots said: "Figures show that a significant percentage of road deaths and serious injuries occur in rural areas, with many young people involved in serious collisions.
"We must reduce injuries to older pedestrians and motor-cyclists and deal with the increased risks faced by children in areas of deprivation."
The minister said he would not accept that nothing could be done and he would not accept that young people should be allowed to die or be seriously injured at the rates they do now.
"Neither will I accept that they should be allowed to kill and seriously injure other road users," he said.
"Improving the safety of young drivers, overhauling how they are trained, tested and licensed is a key challenge for my department."
In a separate move in the Assembly, Mr Poots attacked the insurance industry, which he alleged was "ripping off" consumers in Northern Ireland.
He challenged the industry to reduce premiums to reflect the recent improvements made in road safety.