Asda pulls out after alcohol licence setback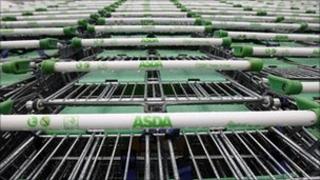 Supermarket giant Asda has pulled out of plans for a branch in north Belfast after being refused a licence to sell alcohol.
A spokesperson for the company said none of their branches operated without a beer, wine and spirits licence.
Local business people had hoped an Asda outlet on the Crumlin Road would breath life into the old Hillview Retail Park.
The company, however, said it remained committed to investing £100m in NI over the next five years.
"Regrettably, the court's decision to refuse Asda a licence to sell alcohol means we are unable to proceed with this particular development," the spokesperson said.
'Re-siting'
"We understand the frustration and disappointment that will be felt by the local community who have been supportive throughout this entire process.
"However, we remain firmly committed to investing in Northern Ireland, with £100m specifically ear-marked for future developments over the next five years, including new store developments in Derry/Londonderry, and the re-siting of the Shore Road and Newtownards stores."
Asda operates 16 stores in Northern Ireland and employs 4,500 people in Northern Ireland.
North Belfast DUP MLA William Humphrey said he intended meeting with the company on Wednesday to urge them to reconsider the decision to pull out of the Crumlin Road project.
"We are convinced that this still can work and will impress upon them the potential which exists at this location," he said.
"The loss of this proposed investment and the promised 230 jobs is a major blow for the local economy. Many people had prepared and were looking forward to applying for those jobs.
'Bully-boy tactics'
"We will also be meeting with the retail park owners and will continue to work to try and bring employment and retail opportunities to this part of north Belfast."
Sinn Fein MLA Gerry Kelly said: "Pulling out of a huge development because they couldn't sell cheap drink is simply bully-boy tactics by Asda.
"This proposal would have regenerated the surrounding deprived communities, providing local jobs, local investment and food shopping within walking distance for the community of Ardoyne and the Crumlin Road. Asda's aggressive marketing strategy is imposing a one-size fits all model and it's take it or leave it for our community.
"The courts rejection of Asda's application for a drinks licence must be respected."
SDLP North Belfast Councillor Nichola Mallon said the decision "had hit the local community hard".
"Local people are very disappointed and upset by this news. Many of them have lost their jobs as a result of the economic downturn and an increasing number of local young people are struggling to get onto the jobs ladder after leaving school," she said.
"The expectation was that this new store would create 200 much-needed full and part-time jobs specifically for local people on an ideal retail site. The regeneration of the area and the jobs created as a result of this investment by Asda was a glimmer of hope for the local community and news of this announcement has hit them hard."