Queen may pay tribute to Irish rebels in Dublin visit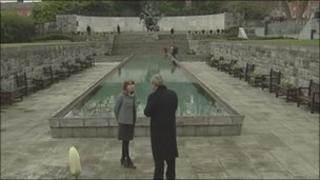 The Queen may pay tribute to Irish men and women who fought British forces when she visits Dublin later this year.
A former Irish cabinet minister said it was normal protocol for a visiting head of state to lay a wreath at Dublin's Garden of Remembrance.
The garden is dedicated to those who died for Irish Freedom.
Officials in Dublin and at Buckingham Palace said the Queen's itinerary has not been finalised and declined to comment further.
What is expected to be a three-day visit is expected in two months' time.
It will be the first visit by a British monarch to the south of Ireland in 100 years and has been billed as a hugely symbolic moment in relations between Britain and the Irish Republic.
The last British Monarch to visit Dublin was George V who inspected what was then part of his realm in 1911.
In tonight's Spotlight programme, Eamon O'Cuiv, a member of the former Fianna Fail-led government that gave the go-ahead to Irish President Mary McAleese to issue the invitation, said: "This is the head of state of our neighbouring country, and of course the normal protocol in these affairs are followed.
No encouragement
"My understanding is that that is the situation."
The visit is opposed by Sinn Fein, though the party is not encouraging people to take part in protests.
Republican Sinn Fein, however, the political allies of the Continuity IRA, said it hoped to campaign against the visit across Ireland.
The leader of the party, Des Dalton said:" This actually is a seminal moment in Irish history.
"The message that's intended is that it marks, if you like, the final piece of the jigsaw being put in place."
Tonight's Spotlight assesses how significant this first visit by a reigning monarch to the Republic really is.
Reporter Darragh MacIntyre travelled across the Republic speaking to celebrity watchers, historians and citizens.
He discovered that some towns had already issued their own invitation to the Queen in the hope that it might boost tourism as the visit of Queen Victoria to Killarney did more than 150 years ago.
Comedian Eric Lalor tried to set the context: "I think we have matured as a nation - we're kind over the whole English Irish thing, I mean what is 800 years of oppression between friends."
Spotlight: "A Royal Appointment" is broadcast tonight at 10.35 on BBC One.