Barry Devlin buoyed for Horslips' Belfast concert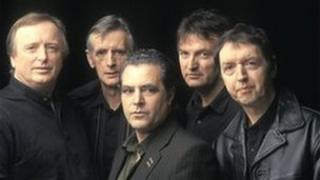 The term Renaissance Man could have been coined for Horslips bass player Barry Devlin.
Most people would be satisfied with playing in one of the most successful Irish bands of the 1970s, but Barry has sampled more twists and turns in his career than one of his band's melodies.
The County Tyrone man trained to be a Columban priest before embarking on his rock career after meeting his fellow Horslips as a copywriter for a Dublin advertising agency.
Throw in roles as a record producer, film director and screenwriter and you realise he could not be accused of being one-dimensional.
It is one of the reasons why he appreciates the forthcoming St Patrick's Day concert at Belfast's Waterfront Hall which will match Horslips with the Ulster Orchestra - a case of Celtic rock with a classical curve.
"It is not everyone who gets to play with a symphony orchestra and it puts it up to us to play well," he said.
"I think playing with the Ulster Orchestra is one of ten things you want to do before you die.
"They are really great players, I saw them with Paul Brady recently and I was really impressed."
Miami Showband
Horslips were one of the pioneers of the Celtic rock genre, some would say they invented it.
They turned professional on St Patrick's Day 1972 and were one of the few major groups who played regularly in Northern Ireland during the Troubles.
Barry said the Miami Showband massacre of 1975, when three members of one of Ireland's most popular music acts were killed by the UVF, was to prove a watershed in how they viewed their safety.
"There was a belief up until 1974 that you didn't shoot the piano player, but after the Miami Showband massacre that was blown out of the water," he added.
"When you saw the headlights in the distance you knew it could be serious."
Horslips continued to perform up until 1980, when they signed off at an Ulster Hall concert in Belfast, with a version of The Rolling Stones' 'The Last Time'.
"We toured non-stop until October 1980, we were always on stage and we were knackered," he said.
"We were also pulling in different directions musically which happened to a lot of bands."
Barry went on to write his own solo album based on the signs of the zodiac, as well as television scripts for the likes of Ballykissangel and The Darling Buds of May.
He has also been the screenwriter on a number of films including A Man Of No Importance and his current project, A Kiss For Jed Wood.
U2
Then there is the small matter of his involvement with U2.
As well as making documentaries about them he produced many of the group's videos as well as overseeing one of their earliest demos.
"I produced ten videos for U2 including Pride, I Still Haven't Found What I'm Looking For and All I Want Is You," Barry added.
"I was their cinematographer from 1984 to 1991.
"I did one of their first demos in 1978, I remember Adam Clayton coming over to see us at Wembley and asking me to produce it.
"After hearing them for the first time I said to their manager Paul McGuinness to mortgage the house on them.
"It was evident to me they would be an extraordinary band."
Despite these other interests, there was always the possibility of a Horslips return and in 2004, the band recorded a studio album, Roll Back.
The interest sparked by some television appearances eventually culminated in the group reuniting for two shows in Dublin and Belfast in 2009.
"At about 2007, we knew there was an enthusiasm out there for it, we just didn't know how much, it was only when we did the O2 arena in Dublin, that we knew there was a lot of people," he said.
Among the crowd at that Dublin gig was Barry's brother-in-law, the poet and Nobel Laureate Seamus Heaney.
However, a side project combining Heaney verse and Devlin music is not on the horizon.
"He very sensibly wouldn't let me," Barry joked.
"I always wrote my own lyrics anyway."
The concert can be heard live on BBC Radio Ulster on Thursday, 17 March at 2000 GMT. All tickets have been allocated for the event.