Orange Order 'doesn't reply' to Parades Commission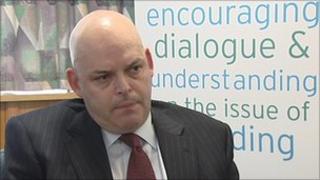 The Parades Commission's new chairman has said he has written to the grand master of the Orange Order requesting a meeting but has received no reply.
In his first interview since taking up the post Peter Osborne said the order's continuing refusal to engage with the parades body was "a disappointment."
But he said he would be writing again to Edward Stevenson, who became grand master in January.
Mr Osborne said all he wanted was a "friendly conversation."
"I've written to Mr Stevenson to congratulate him on his appointment and to ask him if we can have a meeting," the former Alliance councillor said.
"I would very much like to have a meeting with him to listen to what the order has to say and to listen about how the commission can do its business even better."
"It is disappointing they don't engage formally at that level.
"Obviously the commission continues to get opinion from people from various orders. We'll continue to do that in the different ways that we do.
"Its not up to me to give advice to the Orange Order as such, but I think increasingly in the Northern Ireland that we're in people realise that talking and engagement is hugely important.
"I don't think its actually in the order's interest - and increasingly they're seeing it as not in their interest - to continue to not engage with the Parades Commission at that formal level."
In January, Mr Stevenson said he would not engage in talks with Sinn Fein or the Parades Commission.
He said Grand Orange Lodge policy remained that it would not meet the commission "as presently constituted".