Cork air crash interim report due to be published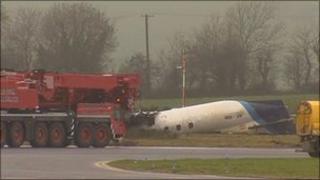 Air accident investigators are to publish their interim report later into what caused the Cork air crash on 10 February.
Six people - three from Northern Ireland - died when the Manx2 flight from Belfast crashed while attempting to land at Cork airport.
Six of the 12 people on board survived. There were reports of thick fog in the area at the time.
The report has been put together by the Air Accident Investigation Unit.
It is a preliminary report into the crash and a more detailed one is also being compiled.
Manx2 announced it was ending its service between Belfast and Cork just over a fortnight after the crash.
The scale of the tragedy was highlighted by aviation expert Jim Ferguson who referred to it as the "worst one in Irish history since Air India".
He said: "In aviation terms, it's not a big accident, but somewhere like the Republic of Ireland or the island of Ireland it is. It was a terrible tragedy and it hurt.
"The report will hopefully kill off more scurrilous rumours."
In 1985, more than 300 people were killed when a bomb exploded on Air India flight 182 as it flew over the Irish sea on its way to Canada.