Arts Council of NI welcomes decision to reverse funding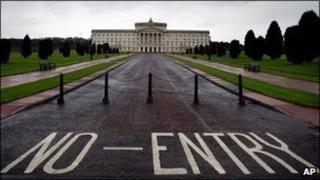 The Arts Council of NI has welcomed the news that funding cuts to the sector will be nearly £3m less than was planned.
Last December, the Stormont Executive's draft budget proposed that the arts sector would lose £4.2m.
Now that figure has been been downgraded to £1.4m.
Arts Council of NI chief executive Roisin McDonagh said it had fought a "good campaign" to reverse the funding plan.
She added that it meant it was able to "maintain virtually all our arts organisations on standstill".
"That means they get the same funding this year as they got last year and that is to be welcomed," she said.
"There will be some challenges in years two, three and four, as we have lost £1.4m.
"But it means we will have a year in which to plan with the arts organisations how best to deal with those reductions."
Ms McDonagh said a "small number of organisations" would not receive funding under its annual revenue programme.
She said the council had given them "bridge funding into next year" and it would be helping them to access other sources of financial support.