Irish dance dressmaker in Derry invests £350,000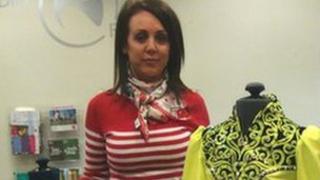 A Londonderry company that makes Irish dancing dresses is investing £350,000 in new equipment and staff to help it meet increasing demand.
Doire Dress Designs was set up in April 2006, and now gets orders from the Republic of Ireland, the United States, and Australia.
Its founder, Shauna Shiels, said she couldn't imagine the way the company has grown over the past five years.
The company started as a two-woman business, and now employs 13 people.
"I started the business as a hobby for my own children with me and one other girl," Mrs Shiels said.
"We kept on getting more orders and they were coming from worldwide.
"I could not believe it."
She regularly flies to trade exhibitions across the world.
"Every part of the year is really busy because it's so worldwide now and there's competitions everywhere."
The investment is supported by a grant of £50,000 from Invest NI.