RIR soldier Stephen McKee's body is repatriated to UK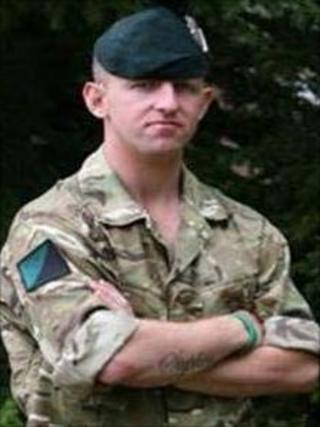 The body of the Royal Irish Regiment soldier from Banbridge, County Down, who was killed in Afghanistan last week is being repatriated to the UK.
Lance Corporal Stephen McKee died when his vehicle struck a roadside bomb in Helmand province.
His body is due to arrive at RAF Lyneham later on Thursday.
His family will then attend a repatriation ceremony in the town of Wootton Bassett.
The dead soldier's brothers, father-in-law and cousin have all served with the Royal Irish Regiment.
L/Cpl McKee joined 3rd Battalion, The Royal Irish Regiment as a part-time soldier in 2003.
When the Home Service was disbanded he decided to transfer to 1st Battalion, The Royal Irish Regiment and he joined them at Tern Hill, near Market Drayton in Shropshire, in April 2007.
Lt Col Colin Weir, commanding officer of the 1st Battalion, said his death had "sent a wave of shock and sadness through this battlegroup".