Another rise in Northern Ireland unemployment rate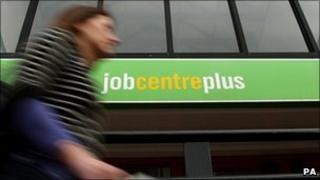 The number of people claiming unemployment benefit in Northern Ireland rose again in February.
The total number claiming was 59,100, a rise of 300 on the previous month. It was the largest increase among the 12 UK regions.
The figures are up 3,500 or 6.3% on this time last year, compared to a decrease of 8.1% in the UK.
The Labour Force Survey also suggests there were 1,880 fewer jobs available over the quarter.
The survey takes a representative sample by asking households about their status. The latest figures have been driven by falls in the construction and service sector.
This decline was the tenth successive decrease in the seasonally-adjusted employee jobs series.
The number of jobs in the manufacturing sector, however, has risen by 1,340 jobs since March 2010.
The Labour Force Survey also suggests that the current rate of economic inactivity, (jobless people not looking for work) in Northern Ireland is 28.4%, a figure also considerably higher than the UK average rate.
Northern Bank chief economist Angela McGowan said it "naturally would take time before Northern Ireland's labour force starts to show signs of improvement".
"In particular the local economy needs to undergo a significant structural change (in terms of private sector growth) before there is significant momentum behind local job creation," she said.
"That private sector growth will come from stimulating entrepreneurship, expanding indigenous firms into export markets and foreign direct investment.
"A potential reduction in local corporation tax would play a vital role in that private sector job growth going forward."