Safe theft led to explosives find under bed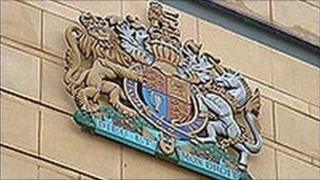 A burglar caught carrying a safe from a bar caused a bomb scare after police found pipe-bombs under his bed in a follow-up search in County Antrim.
William Mason, 22, received a five-year split sentence - two-and-a-half years in custody and the same on licence.
After Mason's arrest, bullets and five pipe-bombs were found in his mother's home in Carmeen Drive, Rathcoole.
The Belfast Recorder told Mason he should not have given in to pressure to keep the explosives.
A prosecution lawyer said that as a result of the explosives find, up to 30 homes in the area had to be evacuated while Army technical officers made safe the devices.
Recorder Tom Burgess said Mason may have "felt vulnerable and found himself between a rock and a hard place," but he should realised that the explosives were capable of "causing indiscriminate injury or death".
Assorted ammunition
The court heard that Mason was initially arrested carrying a safe from a Carrickfergus bar in County Antrim.
The pipe-bombs and 216 rounds of assorted ammunition were found in a search on November 25, 2008.
Prosecution lawyer Gary McCrudden said that up to this Mason was not known to police nor was he suspected of having any paramilitary connections and his pleas to having the explosives and ammunition with intent to endanger life were on the basis that he was keeping them for others and did not personally intend using them.
Defence QC James Gallagher said at the time Mason had a drugs problem and also owed "some sort of organisation or group £500 and could not pay it".
Mr Gallagher added that a now drug-free Mason left the Rathcoole area for a time, but on his return came under pressure whereby it was put to him he would have "to pay for the drugs someway, by providing a service" such as keeping materials.