Eleven-week-old baby saved by random health visit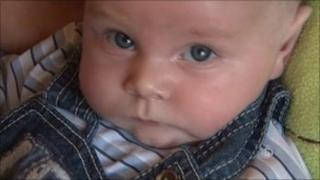 A random unplanned call by a health visitor to a family in Rathfriland may well have saved the life of an 11-week-old baby.
Within hours of the visit, he was in London having surgery for a rare heart condition.
The health visitor dropped in at short notice on new mother Martine McPolin and told that her 11-week-old baby Terence was looking too pale and thin for his age and recommended a check-up.
Martine took Terence to the local GP in Rathfriland who immediately referred him as an emergency to Daisy Hospital in Newry.
There, several doctors examined him and referred him urgently to the Royal in Belfast.
It was there that the now anxious mother learned that her baby had a rare congenital heart disease called Total Anomalous Pulmonary Venous Return (TAPVR).
The condition occurs when too much blood goes to the right side of his heart and not enough to the left.
Martine said it was at this point that she became scared and started to panic.
"There was nothing doctors could do here so we had to take him to England," she said.
Ordeal
At this point Terence's condition was so bad that his parents were not allowed to travel with him in the air ambulance.
He underwent a successful four-hour operation at St Thomas in London.
Now back home in Rathfriland, his parents have tried to put the ordeal behind them, but they said it was an experience they would never forget.
"When it's your first baby you are all excited and you don't think that something like this is going to happen," said Martine.
Terence's father, Adrian, said if they had heard of other parents going through the same ordeal, it would maybe have given them some hope in coping with the trauma.
"When I sat with him on the first night in the Royal, I can honestly say I didn't think he was going to make it," said Adrian.
Baby Terence will have to be given medicine for his heart for the foreseeable future, but his parents said he was over the worst of his ordeal and on the mend.