High Court in London dismisses challenge to Nama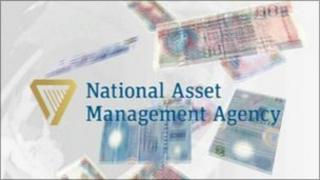 An attempt to prevent the Irish government's National Asset Management Agency (Nama) from exercising its powers in Great Britain has been dismissed by the High Court in London.
Nama was set up as part of the response to the property and financial crisis. Its job is to buy and manage property loans held by Dublin-based banks.
A London-based firm, the Carey Group, had objected to Nama taking over about 50m euros (£43.47m) in borrowings it had with Allied Irish Bank's UK-based arm.
The firm argued that such a move would constitute an unlawful exercise within British jurisdiction of sovereign power by a foreign government.
But Justice Michael Briggs said that there was no contractual basis for restraining AIB UK from complying with Nama's demand that it transfer the borrowings.
The case could have implications in Northern Ireland as the BBC understands that some developers have objected to their loans being transferred and have cited "jurisdictional issues".
Loans totalling £3.35bn made to Northern Ireland developers have now been transferred to Nama.
The loans from 180 individuals and companies represent 5% of Nama's total loans.