A bottle-free St Patrick's Day in Belfast's Holylands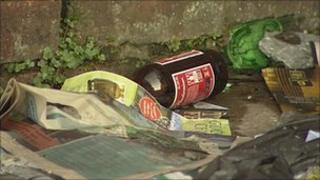 St Patrick's Day in Belfast's Holylands area has become notorious in recent years as thousands of students converge on its streets to celebrate.
But this year, a new initiative is being launched by the City Church and the Alliance Party to reduce the number of broken beer bottles littering the ground.
Off-licences and bars have agreed to try to cut down on the number of glass bottles in circulation by selling drinks in cans or plastic glasses.
The intention is to reduce litter and also take potentially dangerous weapons off the streets.
Trish Morgan from the City Church said she was sure the community would notice the difference.
"Last year, when we went around the streets every half hour with a wheelie bin we were filling it with glass bottles each time. That's just too much for a community to cope with," she said.
The initiative has been backed by the PSNI and Belfast City Council.