Northern Ireland enjoys St Patrick's Day celebrations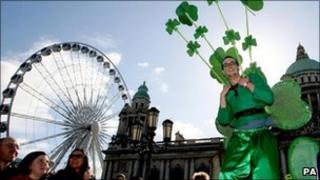 Thousands of people have taken part in St Patrick's Day celebrations across NI, with one of the main events taking place in Belfast.
A carnival with nearly 1,000 participants left City Hall at midday heading for Custom House Square for an open air concert.
Towns and cities including Londonderry, Armagh, Enniskillen and Downpatrick are also holding events to mark the day.
Meanwhile, the NI first and deputy first minister are in Washington DC.
Peter Robinson and Martin McGuinness' first official engagement was a congressional breakfast hosted by Congressman Peter King on Wednesday.
Later on Thursday, a meet is scheduled with US Secretary of State Hillary Clinton and they hope to make a courtesy call to President Obama.