NI charity chosen as part of royal wedding gift fund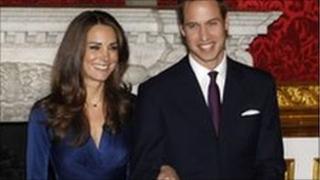 A NI charity has been selected by Prince William and Kate Middleton as one of the beneficiaries of a royal wedding gift fund.
PeacePlayers International (PPI-NI) uses sport to bring young people in NI together.
The royal couple decided that instead of receiving gifts, they would ask people to consider making a donation to a charitable fund instead.
26 charities throughout the UK and abroad have been chosen by the couple.
The donations received by all the charities will be held in a specifically designated account by the Foundation of Prince William and Prince Harry.
The grants will be distributed in partnership with the benefiting charities to ensure maximum impact.
"Great honour"
During their recent visit to Belfast, Prince William and Miss Middleton met representatives of the charity.
PPI-NI board chairman, Trevor Ringland said it was a "great honour" for the charity to be selected by Prince William and Miss Middleton.
"We are flattered that both the work of PPI-NI and the role of sport in conflict transformation are being recognised in such a highly visible manner," he said.
"We are very proud of the fact that PPI-NI participants are given the opportunity to develop lasting friendships with children from the other community by competing on integrated teams.
"These children represent the building blocks of peace for our future."