NI remains 'most expensive' for petrol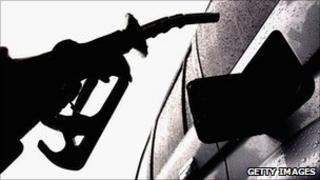 Northern Ireland remains the most expensive region of the UK for petrol, according to the latest figures from motoring organisation, the AA.
The average price is 133.8p per litre. The AA found that diesel is also the most expensive at 139.7p per litre.
The AA said drivers braced to pay up to 5p per litre more in fuel duty on 1 April, have already suffered a price surge over the past month.
For petrol cars, the cost of a tank full is about £2 more.
A family with two petrol cars have seen the monthly bill go up by more than £8 over the past month, the organisation said.