Going native: immigrants engaging with Northern Ireland politics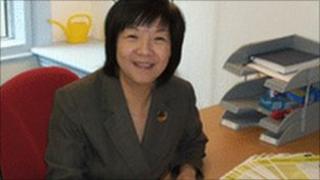 Thousands of people here are eligible to "glosowac" in May, and if you speak Polish, you know that means "to vote".
With the assembly elections on 5 May and growing numbers of immigrants eligible to vote, there is a renewed interested in ethnic voting.
Later on Friday, the Northern Ireland Council on Ethnic Minorities (NICEM) will be launching its own manifesto to try to influence the election.
The BBC has obtained figures which show that more than 15,000 ethnic minorities are now on the voting register.
The Poles account for about a third of the ethnic vote, with approximately 5,200 registered. The next largest group are Lithuanians - with about 1,600 potential voters, followed by about 1,200 Portuguese and just over 1,000 Indians.
Daniel Konieczny is originally from Poland and supports the DUP.
He addressed the party's annual conference in 2008, said he is not surprised that others from his country are interested in voting.
He acknowledged that there are benefits to being on the registers, such as easier access to credit, but insists there is also a political motivation.
"We are not coming here just to save the money and go back home," he said.
"We are buying houses now and people know this - that we are part of the community and we are living here and are contributing to the economy and want to be involved as well with the politics."
And for the first time, there's also a Polish candidate in the forthcoming assembly elections.
'Something more'
Magdalena Wolska came to Belfast four years ago from Pulawy and is standing for the SDLP.
She said she negotiated hard with the party and learned a lot about its history before joining. She is going to contest a seat in East Belfast - hardly a traditionally winnable seat for the SDLP.
But Ms Wolska points out that there are growing numbers of ethnic voters in the area and said she is uniquely placed to help them.
In East Belfast, there are more than 900 ethnic voters registered and around 400 of them are Polish.
She is appealing for votes across the board, but is focussing on newcomers too.
"If we can achieve a seat we can achieve something more here in Northern Ireland," she said.
"There are a lot of Polish people who have families, young children, kids and probably the kids are going to stay here in the future. And they should think long-term. Not just about tomorrow."
The Alliance Party's Anna Lo made history in 2007 when she took a seat in South Belfast. Born in Hong Kong, she is the first person from East Asia to be elected to a British Parliamentary body.
But Ms Lo did not rely on Chinese votes - as this ethnic group has not been very active in registering to vote.
Patrick Yu, chief executive of the Northern Ireland Council for Ethnic Minorities, said this is also partly related to Chinese culture.
Influenced by the Confucian philosophy and a mindset of personal achievement, it doesn't encourage people to "rock the boat."
"That's why the role model of Anna is so important," he said.