Principals condemn Belfast Schools football fighting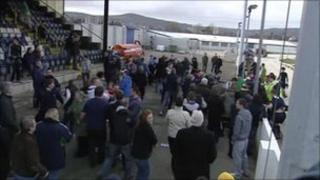 The principals of St Mary's Christian Brothers' School and Belfast Boys Model have condemned fighting following a football final on Thursday.
St Mary's Christian Brothers School principal Jim Sheerin called the PSNI after a number of spectators and players brawled at the end of the Belfast Schools Cup match at Ballyskeagh.
A police spokesperson said its enquiries were continuing.
There were no arrests.
Mr Sheerin said the game had been played fairly with good-natured banter between supporters and he was uncertain what had sparked the trouble.
The fighting was mainly between adults on a terrace though video footage appears to show at least one pupil crossing from the pitch into the crowd and fighting.
Mr Sheerin said he had called the police after the fighting stopped because there was still an intimidating atmosphere.
"There were a number of men who were still quite agitated and they were shouting threats that they were going to wait on people perhaps to take up arms again," he said.
"It was quite persistent, it was quite intimidating so that is why I decided to call the police."
The trouble has also been condemned by the Northern Ireland Schools Football Association.
Its chair, Stephen Blevins, said that a "mindless minority overshadowed a wonderful footballing occasion".
He said his organisation would support the Belfast District in its attempts to investigate what happened.
"We are both determined to ensure that the actions of a few yesterday do not ruin what has traditionally been a superb sporting occasion," he added.
Both men refused to be drawn on whether sectarianism had played a part in provoking the disturbances.
Mr Sheerin added that his team had played Boys Model on several previous occasions without any trouble.
Jim Keith, principal of Belfast Boys Model School said two boys have been suspended for the maximum five days following the trouble.
"The two coaches who have taken this team right through from first year are so disappointed at how their career in the Model has finished", he added.