Bio-tech firm Randox creates 242 new jobs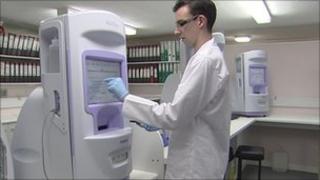 A County Antrim bio-tech company has announced that it is to create 242 new jobs.
It is part of a £15.8m expansion at Randox Laboratories which is based in Crumlin.
The company specialises in developing sophisticated chemical and biochemical diagnostic tests and devices for hospitals, clinics and veterinary laboratories.
It employs more than 850 people worldwide - including 620 in Crumlin.
The expansion is being supported by Invest NI which offered £2.4m of assistance.
Making the announcement on Friday, Enterprise Minister Arlene Foster said: "Randox is one of Northern Ireland's most successful and respected companies.
"It has grown steadily since it was set up in 1982 and, through a firm focus on research and development, has established itself as a world player with an international reputation for excellence."
Mrs Foster said the company's expansion would also benefit wider local economy, in terms of salaries and employment opportunities.
Randox Laboratories has an extensive worldwide network of distributors servicing 130 countries and 95% of its products are exported.
The company invests more than £7m in research and development each year.
'Ambitious targets'
Dr Peter Fitzgerald, managing director, said: "We have set ambitious revenue targets for the next few years which will depend on increasing our sales and marketing activity and penetrating new markets.
"We have identified sales opportunities in the rapidly expanding economies of Brazil, Russia, India and China and will be targeting these with our extensive portfolio of products."
DUP MLA Trevor Clarke welcomed the announcement.
He said: "It is clear that despite the recession local companies in south Antrim are stepping up to the mark and bucking the trend."
Sinn Fein's Mitchel McLaughlin said the jobs are "expression of confidence in the local economy".
Randox Laboratories created almost 90 new positions at their headquarters in 2009 and a further 30 in 2010.