Newtownabbey man convicted of sexual assault after Facebook contact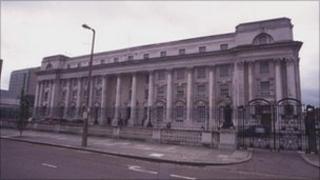 A man has been convicted of sexually assaulting a woman in his bedroom after they developed contact via Facebook.
Mark Balmer had denied touching and trying to kiss her before taking off his bottoms and boxer shorts when she visited his home during a lunch break.
But following a contested hearing, a judge ruled that the 22-year-old, of Knockane Way, Newtownabbey, County Antrim, was guilty of the offence.
Balmer was released on bail. He will be sentenced next month.
Belfast Magistrates' Court heard he met the woman at a leisure centre on the northern outskirts of the city in November 2010.
They had both been in the sauna and jacuzzi areas, and the next day she received a friend request from him on the Facebook social networking site.
In evidence given via video-link the woman said they exchanged messages and she asked for his phone number to make communication easier.
She told the court she agreed to go to his house for lunch, thinking they could be just friends, as she was already in a steady relationship.
She said she arrived and went up to his bedroom, where she said he grabbed her around the waist and pulled her onto the bed.
'Guilty'
She said Balmer pulled her jacket off and started kissing her neck. The woman said he then started touching thighs.
The court heard she ran down the stairs and left after Balmer began to undress.
She rejected defence claims that she was telling blatant lies, and accepted it was stupid to agree to be dropped off at his house by a girlfriend.
Balmer told the court the woman had initiated the conversation when they first met and that she had followed him from the sauna into the jacuzzi area.
He insisted that he never touched or tried to kiss the woman and had not removed his bottoms.
Giving evidence he accepted having lied to police initially about the alleged victim having been in his bedroom, but claimed this was because he had panicked.
Ruling on the case, District Judge Fiona Bagnall said: "I am satisfied that the defendant is guilty of the offence which is before the court, namely he intentionally touched the injured party in circumstances which fall within the legislation."
Mrs Bagnall ordered reports be prepared before she passes sentence next month.