Cork plane crash: Service to remember victims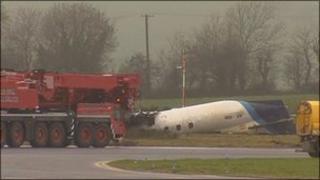 The six people who died in last month's plane crash at Cork Airport have been remembered at a special ecumenical service in the city.
Relatives of those who died, along with some of the six survivors, attended the service.
It was held at the city's North Cathedral.
Members of the emergency services, as well as police, hospital and airport staff were also in attendance.
Representatives of the Irish President Mary McAleese and Irish Prime Minister Enda Kenny were at the service as well as those from the British and Spanish embassies.
Six people - three from Northern Ireland - died when the Manx2 flight from Belfast crashed while attempting to land at Cork Airport on 10 February. There were reports of thick fog in the area at the time.
Lawrence Wilson from Larne, County Antrim, was among those who survived the crash.
He said Sunday's service had helped to bring the families of those that suffered, closer together.
"It has brought people from the north close to people from the south," he said.
"I have made great friends with Donal Walsh (another survivor of the crash) and things have really looked up through all the tragedy.
"There has definitely been some good has come out of it."
Last week, an interim report into the crash found no faults with the aircraft or the airport landing systems.
The report found that the plane's right wing-tip made contact with the runway on its final landing approach.
Irish air accident investigators said they were still trying to establish why the plane crashed.