Woman is hit with bullhook in row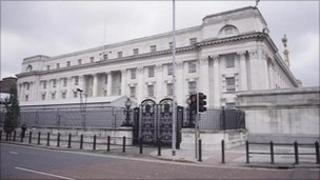 A woman was injured by a bullhook after being caught in a feud among travellers the High Court heard on Monday.
Patrick Mongan, 27, of Mill Race, Belfast, allegedly hit her on the back with the handle of the 4ft-long baton.
Mr Mongan is charged with possessing ammunition in suspicious circumstances, aggravated assault, and possession of an offensive weapon.
The bail application was adjourned to see if a suitable location could be found for the accused to stay at.
The court heard Mr Mongan had allegedly brandished the bullhook after trying to set up a meeting with a man he was in dispute with.
The prosecution barrister said that all complainants had made withdrawal statements since the alleged incident on 15 March.
Drinking den
She said it was alleged that Mr Mongan had been drinking heavily on that day and made a woman go under duress to his suspected rival with a gun cartridge and tell him he wanted to meet him outside.
During the bail application the court was told Mr Mongan came from behind a hedge with the bullhook, swinging it about and screaming.
The injured woman was struck on the back after she stepped in, it was claimed.
Three live shotgun cartridges were also found in a caravan Mr Mongan was allegedly using at a travellers' development off the Monagh Road.
The prosecution urged the judge to order Mr Mongan to stay away from the area, if granted bail, to ensure no risk of further escalation in the feud.
Mr Mongan's defence said his client denied the charges and claimed not to have been living in the caravan where the ammunition was allegedly found.
"He says that is a sort of drinking den he would use with some others," the barrister said.
The judge adjourned the application to see if a suitable location could be found for the accused to stay at.