NI speaker 'deeply concerned' Attwood told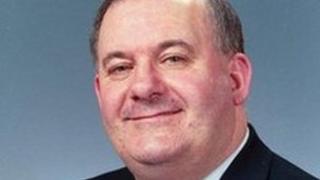 The Speaker of the Northern Ireland Assembly is "deeply concerned" about an alleged breach of procedure by Social Development Minister Alex Attwood.
It follows a complaint by the DUP MLA Lord Morrow.
He said Mr Attwood took until the end of last week to give a written answer to a question he failed to get to at last Monday's Assembly Question Time.
But an SDLP member released a statement with the information before it was given to the DUP member.
It is understood that the question was about the regeneration of Dungannon town centre.
Lord Morrow told the Assembly he had been treated with "utter contempt" and said the minister's action's had been "despicable".
Speaker William Hay said he intended to write to Mr Attwood expressing his "deep concern."
He said the minister had been "totally and absolutely wrong."
Lord Morrow asked the speaker if he intended to suspend Mr Attwood from the House.
Mr Hay said he was not sure what authority he had.