Uninvited guests - family plagued by rats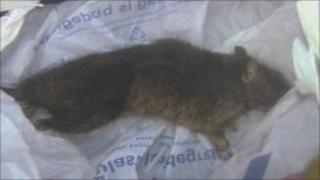 A Ballymena family have been plagued by rats.
Colin Logan, his wife and two children have caught dozens of them at their home.
It started about a year ago when a once level yard at the back of their house began to crack and dip. The land behind it, owned by Translink, had started to fall away.
"We started hearing a few noises in our roofspace," Mr Logan said.
"I never thought much of it. I believed it was pipes cracking with the oil heating. But one day, I went up and I smelled a very bad smell.
"It was a very strong musty smell which, we now know, was rat urine.
"In August, we caught 19 in one week. God knows how many more we did not catch."
To protect their children, the Logans put a suitcase in front of a cupboard at their home.
Their roofspace has tell-tale signs of gnawing teeth.
The family are suffering. The oldest child, who is six years old, is up at night screaming because he hears noises. With the youngest child, the Logans are extremely vigilant.
Translink has carried out work to stop the land from slipping at the back of a row of properties at Ballymena's Balmoral Avenue. The company intends to fix the back yards.
But Ian Paisley Jnr, the MP for the area, said the rat problem had spread to another property and needed to be dealt with now.
"It is a public health hazard. It is taking forever. We have a family here at their wits' end who need this problem sorted out," he said.
Translink said it was aware of the problems and had carried out work in the affected properties. It has done internal and external surveys and replaced loft insulation. But the company has not discovered yet where the rats are coming from.
The Logan family said time was running out to find out the source of their uninvited house guests.