Marching bands study launched by NI culture minister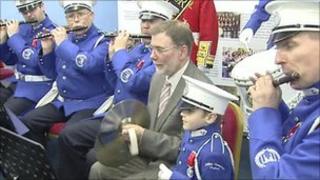 The minister for culture, Nelson McCausland, has launched a new study of marching bands commissioned by his own department.
Mr McCausland said marching bands, which often received negative publicity, were a vital part of Northern Ireland's cultural offering.
He was speaking as he attended the 100th anniversary celebration of the formation of the Millar Memorial Band flute band at Shaws Bridge.
In a statement, the Department of Culture, Arts and Leisure said the Millar Memorial was "one of Northern Ireland's most successful marching bands".
Wishing the band well for another 100 years the Minister said: "It is a privilege to be able to join the Millar Memorial Band to celebrate their centenary year. They are an excellent example of a band which developed a professional approach and have a strong understanding of their history and value within the local community."
'Positive impact'
The study announced at the event "aims to promote understanding and encourage development of the largest section of the community arts sector".
"This new document aims to provide baseline information for policy makers and promote greater understanding both for the public and for the sector itself," Mr McCausland said.
"The study identified areas for improvement and this document also provides best practice for bands and advice on how to help promote the positive impact that they have."
Valerie Quinn, chairperson of the Confederation of Ulster Bands, who assisted with the study, said the organisation hoped that it would help promote the value of marching bands and "dispel some of the myths that surround the sector".
"The study shows that this large sector, with over 30,000 participants, has many strengths," she said.
"From preserving our cultural heritage and supporting local communities to teaching young people important skills, marching bands' contribution should be valued by everyone in Northern Ireland."