Sheep rustlers hurting Fermanagh farmers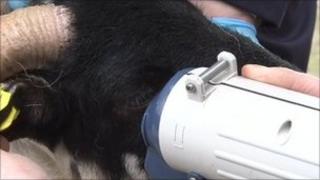 Spring is in the air and lambs are skipping through the fields.
It may be an idyllic scene, but all is not well in Fermanagh's green pastures.
Farmers here have had tens of thousands of pounds worth of livestock stolen over the last year.
Sheep rustlers are costing farmers like Paula O'Neill dearly.
"At present we have lost a batch of 30. This has been an ongoing thing for a number of years now," she said.
"It's usually been a case of two or three being taken from a number of different farms. It's very frustrating to go out and do a count and you've two gone, maybe three gone out of the batch."
Sergeant Scott Fallis leads the Neighbourhood Policing Team in north Fermanagh.
"Depending on the breed of sheep you're talking about anything between £100 to £200 an animal, and indeed that can go much higher for a pedigree animal," he said.
'Devastating'
"But it's not only the financial issues, there's also an emotional side to it as farmers are very attached to these animals they've been looking after for months. Once the animal goes out of their fields they don't know how they're being looked after."
Livestock thefts may be an age-old crime, but on the O'Neill farm the police are helping farmers by using the latest technology to tackle the problem.
"We scan the retina of each sheep. The pattern is unique, it's like a fingerprint," said Sergeant Fallis.
"We gather all the retina scans and tag them with the flock number and the individual tag number. That then goes onto the police database and we can then identify particular sheep from the retina map.
"It means that if this sheep is stolen we can instantly identify it."
At up to £200 per sheep the loss of a flock is devastating financially, but on her family run farm Paula O'Neill said it also has a devastating effect on morale.
"It's a 24/7 job during the lambing and now the lambs from that season have been taken from us," she said.
"We have worked day and night for that and now that's gone. And psychologically it's not nice to think that you have someone out there watching you."