Man who sexually touched girl should 'expect jail'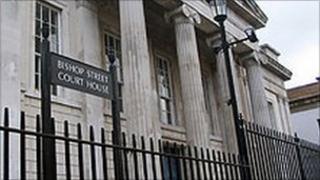 A 23-year-old man has been told to expect a jail sentence after he admitted sexually touching a 14-year-old girl almost two years ago.
He had initially denied the charge until he appeared at Londonderry Crown Court, where he was due to have gone on trial on Monday.
The man, whose name cannot be released to protect the identity of his teenage victim, will be sentenced in six weeks.
He was also ordered to sign the Sex Offender's Register.
Judge Piers Grant ordered that other charges of rape and indecent assault on dates between May 31 2009 and July 1 2009 should be left on the court files and will not be proceeded with without permission of either the Crown Court or High Court.
Defence Counsel, Ms Eilis MacDermott described the defendant as a "vulnerable person".
She told Judge Grant that a report from an educational psychologist had already been prepared.
Judge Grant released the defendant on continuing bail until 6 May.
As part of his bail conditions he is prohibited from unsupervised access to children aged under 16 and he is also prohibited from loitering in areas frequented by children.
He is further banned from contacting any of the prosecution witnesses in the case and he must allow police officers access to his home.
Judge Grant told the defendant that it was almost inevitable that he will receive a custodial sentence.