DSD transfers 95 pensions jobs to Derry from Belfast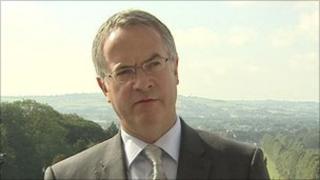 The Department of Social Development has announced the transfer of 95 jobs dealing with the state pension from Belfast to Londonderry.
The Minister, Alex Attwood, said it was "good news for Derry", and said there would be no redundancies.
The trade union, NIPSA, cautiously welcomed the move, but asked that no-one would be "forcibly transferred" against their will.
The process of moving the posts will begin this autumn.
The Social Security Agency currently administers State Pensions from Belfast and Pension Credit from Derry.
When the relocation is complete, in Spring 2012, both services will be administered from Derry.
"My Department's commitment to decentralisation of public sector jobs is already evident," Mr Attwood said.
"This move provides an opportunity to look at accommodation costs for the Social Security Agency at a time when the value of every penny of public expenditure must be weighed."
He also maintained that staff who do not move to Derry would be redeployed within the Social Security Agency, the Department for Social Development or the wider civil service.
NIPSA welcomed the transfer of jobs to areas outside of Belfast, but said they were "acutely conscious of the need to protect the rights of members currently working in the jobs".
The trade union said it had been assured that "no member currently working in Belfast would be forcibly transferred to the new Pension Centre in Derry against their will".