DSD offers £10m Derry Londonderry City of Culture funds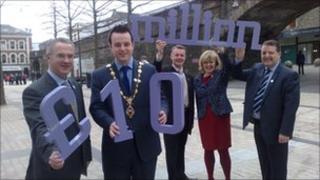 The Social Development Department has called for organisations in Londonderry to bid for part of a £10m funding package for City of Culture 2013.
The funding will go towards venues and services, retail areas and an indoor venue for prestigious events.
The Minister, Alex Attwood, said it was important that the community should benefit from City of Culture year.
He said that venues to host events and attract tourists and visitors must be to the highest possible standard.
Several projects have already been "earmarked" for part of the funding, Mr Attwood said.
He said there were plans to secure a moveable pavilion, which will accommodate 8,000 people.
"This would be a plum venue for competing for the likes of the Brit Awards and Sports Personality of the Year."
Up to £1million of funding will also be provided to enhance a number of retail areas on both the Cityside and Waterside.
The City Centre Initiative, has been asked to develop plans to improve a number of the retail streets to attract more visitors and shoppers, especially in the evening.
"These are exciting times," he said, "and I know the people of Derry, who have a very strong cultural tradition of song, dance and warm hospitality, will rise to the challenge of delivering a programme of events that will be second to none."
The Mayor of Derry, Councillor Colum Eastwood, welcomed the support for the city.
"Today's announcement pledges significant support to the City through recognising the important role the creative economy has in driving economic development, investment and regeneration."
Martin Bradley, Chair of Culture Company 2013 said the announcement was "a positive statement of support for the city".