Belfast's giant Aurora billboard to be removed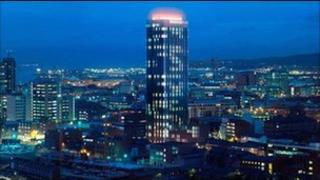 Planners have revoked consent for a huge billboard on the site of what was to have been Belfast's tallest building.
The 11m high sign on Great Victoria Street was erected by McAlister Holdings. The site on which it sits has been repossessed by Anglo Irish Bank and the owner of McAlister Holdings, Mervyn McAlister, declared bankrupt.
The billboard had been given temporary approval since 2007 on the understanding that the site was due to be developed.
However, the Planning Appeals Commission (PAC) has ruled that since there is now no pending proposal for a development there is no justification for granting further temporary approval.
The sign will now have to be removed or the Planning Service will begin enforcement action.
McAlister Holdings first erected the sign to advertise their plans for an apartment building called the Aurora.
When that scheme was blocked the company used it for a poster which criticised planners.
It has since mainly been used to advertise taxi companies and fast food restaurants.
In its ruling the PAC said that the sign is "an over-dominant and obtrusive feature in the streetscape."
Usually such freestanding signs are only allowed when they screen derelict and untidy land but the PAC said the location of this sign does not screen the site in any way.
Meanwhile Mervyn McAlister last week resigned as a director of his various property companies.
Company law prohibits people who are bankrupt from acting as company directors.