Stakeknife case: MI5 agent's ex-wife sues Scappaticci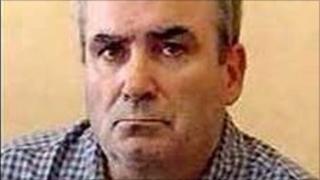 The ex-wife of an MI5 agent is seeking damages from a west Belfast man alleged to have been Britain's lead agent in the IRA, the High Court has heard.
Margaret Keeley claimed that Freddie Scappaticci was part of an IRA gang who questioned her on two occasions following her release from RUC custody.
She had been arrested in 1994 over the attempted murder of a senior detective.
Mr Scappaticci denies allegations that he was the military spy code-named Stakeknife.
Mrs Keeley, whose ex-husband is the one-time MI5 agent known as Kevin Fulton, told a judge she was left "horrified and frightened" by the process at a flat in north Belfast.
She is seeking to have Mr Scappaticci, 64, listed as a co-defendant in her damages claim against the Chief Constable.
A judge will decide whether to permit the application based on the passage of time since she became aware of his alleged role as an agent.
Mrs Keeley has issued proceedings against the police for alleged wrongful arrest and false imprisonment.
The Newry woman was held for up to four days at Castlereagh detention centre in 1994 following an IRA attempt to murder RUC detective Derek Martindale in east Belfast.
The court heard Mrs Keeley was released without charge and was then told to go with her husband to the New Lodge area of Belfast where she was interrogated by an IRA team.
Giving evidence, she said: "I was made to face the wall (and) told not to move, or else."
She said that she heard different voices and that one of the faces she glimpsed was Mr Scappaticci.
'Double-agent'
Mrs Keeley claimed to have recognised Mr Scappaticci from going to bars in Dundalk with her husband, but did not know his name at the time.
It was only in 2003, when Mr Scappaticci was alleged by the media to be the double-agent Stakeknife, that she realised he had been one of those involved in the questioning, the court heard.
She said the interrogation took the form of checking what police had asked her about specific people and places.
Following the first session the couple were brought back a second time to face more questions, the court was told.
"I was horrified, frightened. I didn't know what to do," she said.
Asked by her barrister about Mr Scappaticci's alleged involvement, she replied: "He was one of the ones interrogating me and he had a say over what was going to happen."
At the time Mrs Keeley was unaware of her husband's own role as an agent, she said.
When he first informed her about 10 years ago she said she did not believe him at first.
Then, around 2007, she took her case to the British Irish Rights Watch group on the advice of Fulton.
"He told me he was a British agent and that I was lifted and shouldn't have been; that it was a cover for him."
Detailing fears for her own safety, she told of having her windows broken, the wheels of her car slashed and being followed.
But during cross-examination Mr Scappaticci's lawyer put it to her: "You are just making this up as you go along, Mrs Keeley."
The case continues.