Scooter user Helen Hastings 'shaken' after knife ordeal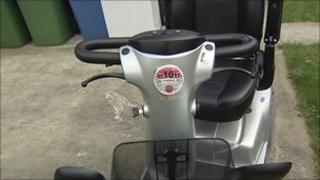 The son of a disabled woman attacked and robbed at knife point by a gang of young boys in Holywood has said he is disgusted by what happened.
Helen Hastings was threatened and forced off her mobility scooter by the youths, who were aged around 12.
Her son David Thompson said they tried to steal the scooter.
The attack happened a week ago, but details of the incident have just been released.
Mrs Hastings has pulmonary fibrosis, which her son said means she has difficulty breathing when she walks more than ten yards, so she relies on the scooter to get around.
She had just come out of a shop when the children approached her last Tuesday evening at about 1900 GMT in the Abbeyring area of Holywood.
One of them asked if they could try the scooter and when she refused, he produced a knife, demanded money and took cash from her purse.
Two of the youths took the scooter, but were stopped by a passing driver.
Mrs Hastings was unhurt, but extremely shaken by her ordeal.
Her son said she has been left very distressed by the robbery and in need of medication. She was also reluctant to tell her own family.
'Disgusted'
"I didn't hear until Friday because she was embarrassed. Basically it was the age group that had threatened her and I can understand that," her son said.
"These people just took it on her without even thinking what it would do to her and held a knife up to her.
"She tried to tell me what had happened while she was in tears. She's in tears most of today because everybody keeps contacting her and she has to relive it over and over and over again. She's not doing good."
Mr Thompson said his mother has had to seek medical help to calm her nerves.
"I felt disgusted that someone could do that. Someone so young. I just don't understand what's happening with the youth today," Mr Hastings said.
"I would appeal to the driver who helped my mother to come forward so we can help identify these people and hopefully get justice done.
"At the end of the day, it's our mother and we want to protect her, but if you can't protect her from 12-year-olds, what can you do?"