Robinson: McGuinness first minister offer 'vote tactic'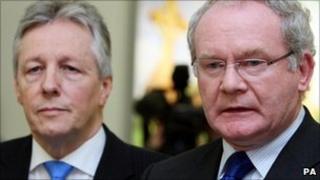 Peter Robinson has dismissed as an "electoral tactic" Martin McGuinness's offer to consider a joint first ministry if Sinn Fein is the largest party after the assembly election.
The DUP leader said the deputy first minister's comments were an attempt to "undermine" support for his party.
There has been speculation the DUP would refuse to serve under an Sinn Fein first minister.
Mr Robinson has refused to publicly contemplate anything but a DUP victory.
He told journalists: "I have no doubt there are people who don't want to see a Sinn Fein first minister and will lend us their votes during the course of this election to avoid that happening but I would rather be going forward to the people of Northern Ireland with a positive agenda.
"I go into an election to win. I want the DUP to be coming out on top. I'm not going to look at what happens if we fail.
"I think it's fairly clear they are concerned that the unionist population is rallying around the DUP and they're trying to undermine that.
"It's an electoral tactic. I think we have to recognise that parties do these kind of things but I am going to keep focused on how we move Northern Ireland forward."
Asked if he thought Mr McGuinness was serious, he said: "He didn't say he would do it. He said he would consider it and I think we all know what that means."
Mr McGuinness has repeated his offer, saying he was trying "to allay fears, not heighten fears".
"These positions are absolutely equal," he said.
"Peter has no more authority than I have. I have no more authority than he has
"Simply what I was saying was that if the people decide that they want Sinn Fein and the DUP to be returned as the largest parties and, if, for example, Sinn Fein was returned as the largest party then I would be prepared to, in a spirit of generosity, consider that whoever leads the Executive should be regarded as joint first ministers."
He said he was "somewhat surprised" by the response to his comments.