Dempsey Andrews to dance with Russian Ice Stars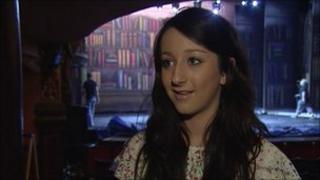 The Grand Opera House in Belfast is to be turned into an ice rink ahead of the opening night of Peter Pan on Ice performed by the Russian Ice Stars.
At 14, Dempsey Andrews from Dundonald is the youngest and the first ever British ice skater to have performed with the troupe which includes world champion skaters.
Dempsey who is studying for her GCSE's at Lagan College has taken some time out to perform on stage in her home town.
She will play the part of a pirate alongside one of the tallest ice skaters in the world - seven foot tall Andrey Chuilyaev.
Dempsey has also performed and filmed with fellow Belfast celebrity Zoe Salmon on the ice.
She has appeared on Dancing on Ice, Blue Peter, Sports Round, TV3 and has also performed for Torvil and Dean.
Dempsey said it was a special chance for her to be able to perform in her home town.
"It makes all my early morning training and hard work worth it when I achieve my goals," she said.