Row over Altnagelvin radiotherapy unit postponement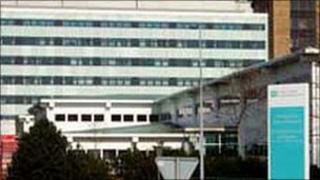 A row has broken out after the health minister took the decision to postpone plans for a new radiotherapy unit at Altnagelvin Hospital in Londonderry.
Mr McGimpsey said the Assembly had not given him enough money in his budget to run the cancer treatment centre.
The minister said his budget for capital spending was £500m short.
Jim Wells, DUP chair of the Assembly's health committee, said Mr McGimpsey was "punishing people for his failure to tackle inefficiency" in his department.
Sinn Fein Foyle MLA Martina Anderson, accused Mr. McGimpsey of incompetence, and described the move as a political decision
Mr McGimpsey made the announcement to the Assembly on Wedensday in a statement on his capital priorities for the next four years.
He said he was committed to the future development of the unit at Altnagelvin.
"These are choices which have to be made because the health and social care service is broke," Mr McGimpsey said.
"These are choices which can only cause pain and anxiety to the public."
The decision means that people in Derry and Donegal will continue to have to make the 200-mile round trip to the cancer centre in Belfast.
'Lives at risk'
Mr McGimpsey said he would make arrangements to introduce two new radiotherapy machines at Belfast City Hospital over the next two years.
"I remain totally committed to ensuring that people with cancer in Northern Ireland have access to the radiotherapy services they need."
Mr McGimpsey also announced construction can start on a number of other high priority schemes.
They include the next phase of the Ulster Hospital ward block, the new regional maternity hospital at the Royal Victoria Hospital in Belfast, the new enhanced local hospital at Omagh and a new acute psychiatric facility at the Belfast City Hospital.
Health committee chair, Mr Wells, said it was disappointing that the health minister had delivered such negative news as the Assembly was preparing to dissolve before the election.
"He knows that the decision to mothball the Altnagelvin cancer facility will cause enormous uproar west of the Bann and the north west of this province."
The Foyle MLA, Pol Callaghan, accused Mr McGimpsey of using the radiotherapy satellite unit as a "political football".
"Many people will say to me that this decision may put lives at risk."
On Wednesday Mr McGimpsey also announced a major review of health services which is to be completed within nine months.
It will be chaired by William McKee who recently retired as chief executive of the Belfast Health Trust.
Mr McKee also sits on the Board of the Adelaide and Meath Hospital in Dublin.