Women 'trafficked' to work as prostitutes, court hears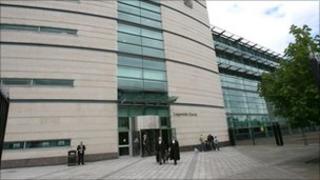 Up to 70 women may have been brought to the UK and Ireland to work as prostitutes, a Belfast court has heard.
The details emerged as a restaurant owner was remanded in custody charged with two counts of controlling prostitution for gain.
Matyas Pis, 37, was arrested and charged after handing himself in to police on Monday.
His lawyer told the court Mr Pis claimed to have acted because he was in love with one of the women.
The Hungarian national, with an address in Gaybrook Lawns, Dublin, had allegedly booked flights into Dublin for two women and then drove them to Belfast to work as escorts.
Belfast Magistrates' Court heard the Hungarian Embassy had contacted the Metropolitan Police about a woman who had gone to work in a restaurant, but had allegedly been forced into a brothel to work as a prostitute.
Officers were asked to intervene amid fears that she may have been the victim of human trafficking, a detective said.
It was established that she had arrived in Dublin from Bratislava, Slovakia with another woman before they were allegedly taken into Northern Ireland by Mr Pis on 14 March.
The court was told the accused was contacted by gardai and instructed to go to the PSNI.
But before handing himself in, Mr Pis went to a flat in the city's Titanic Quarter which was being used as a brothel and cleared out any evidence, the detective claimed.
Both women were taken to specialised police facilities.
They claimed to have been working as prostitutes, with services advertised on a local escort website, according to the investigating officer.
'In love'
He said Mr Pis admitted he had known one of them for four years, rented the apartment on her behalf, and booked the flights.
Bags of condoms, other sexual paraphernalia, hundreds of euros and a notebook containing the prices for services offered was recovered from his car, the court was told.
Opposing bail due to concerns over possible flight and interference with witnesses, the detective claimed the women were victims living in fear of a suspected organised crime gang.
"A co-accused in Dublin has stated as many as 70 Hungarian females may have been facilitated entry to the UK and Dublin," the detective told the court.
Defence lawyer Eamonn O'Connor said Mr Pis denied the charges and rejected any links to organised crime.
The solicitor told the court his client claimed to have acted "out of the goodness of his own heart" and because he was in love with one of the women.
He set out how Mr Pis had lived in Dublin for four years, working as a waiter before taking over the lease on a restaurant employing up to seven staff.
"This is a man who took it upon himself to come to police," Mr O'Connor stressed.
Mr Pis was refused bail due to the risk of fleeing and any further offences being committed.
He was remanded in custody to appear again via video-link next month.