UUP deputy chair says Altnagelvin decision was 'wrong'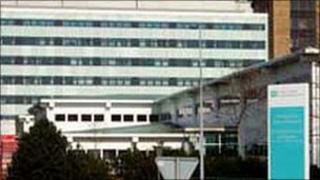 The deputy chair of the Ulster Unionist Party has said the Health Minister's decision to postpone a new radiotherapy unit at Altnagelvin was "wrong".
Terry Wright, who also chairs the Foyle branch of the party, said it was symptomatic of a "dysfunctional" Assembly.
He said he would work through the party to reverse the UUP minister's decision.
Mr McGimpsey said there was not enough money in the Health Department's budget to fund the unit at present.
Mr Wright said that Mr McGimpsey had made many good decisions but he did not agree with this one.
He had not been informed of the announcement before it was made public.
"I put it on the same level as Martin McGuinness when he pulled the plug on the 11 plus," Mr Wright said.
"There needs to be joined-up thinking and money being allocated on a priority basis."
Mr McGimpsey said that he was committed to ensuring that people with cancer in Northern Ireland have access to the radiotherapy services they need.
Two new radiotherapy machines were to be brought to Belfast City Hospital.