Stakeknife damaged my life - MI5 agent's ex-wife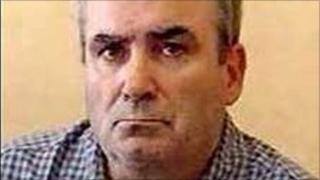 The ex-wife of an MI5 agent has claimed her "life was damaged" as a result of an interrogation by a man who was allegedly Britian's lead IRA agent.
Margaret Keeley claimed that Freddie Scappaticci was part of an IRA gang who questioned her twice.
Mrs Keeley said her attempt to sue Mr Scappaticci was about exposing how innocent victims got caught up in the world of police and informers.
Mr Scappatici denies being the military spy code-named Stakeknife.
At Belfast High Court Lawyer for Mr Scappatici accused Mrs Keeley of repeatedly lying.
He also rejected claims that she was unaware her ex-husband Peter Keeley, himself a former MI5 agent known as Kevin Fulton, was involved in IRA business.
Mrs Keeley is seeking to have Mr Scappaticci, 64, listed as a co-defendant in her damages claim against the Chief Constable.
A judge will decide whether to permit the application based on the passage of time since she became aware of his alleged role as an agent.
Mrs Keeley has issued proceedings against the police for alleged wrongful arrest and false imprisonment.
The Newry woman was held for up to four days at Castlereagh detention centre in 1994 following an IRA attempt to murder RUC detective Derek Martindale in east Belfast.
Mrs Keeley, who was released without charge, believes she was lifted and held as a cover for her husband.
She also claims to have been taken with her Fulton to a flat in the New Lodge area of Belfast where she was interrogated by an IRA security team.
She told the court that she heard different voices and that one of the faces she glimpsed during two separate debriefing sessions was Mr Scappaticci.
Mrs Keeley told the court she was unaware of her husband's own role as an agent, and that she only realised who Scappaticci was when he was exposed by the media in 2003 as an alleged informer.
'Post-Troubles'
It is this date of her knowledge which is critical to her chances of being allowed to sue him.
During cross-examination on Wednesday, she claimed to have known her husband was associating with IRA men during the 1990s, but not that he was in the organisation.
Asked by Michael Lavery QC if she thought he was a member at the time, she said: "It never crossed my mind."
Later he questioned her motives for bringing the action now.
Mrs Keeley told him: "Because time has lapsed, everything has moved on and people need to know the truth of what happened to innocent victims; the way they were treated both by the RUC and alleged informants."
Challenged by Mr Lavery to explain what her reasons had to do with damages, she said: "He (Mr Scappaticci) has damaged my life as I know it."
At an earlier stage in the proceedings her barrister, Brett Lockhart QC, described the unusual circumstances of the case.
"We are entering into a world of agents and subterfuge, and what certain people know and didn't know and at what point they knew it," he said.
Mr Lockhart added: "It's an evolving area of law that is really only beginning to come out now, post-Troubles.
"The instigation of civil litigation as a result of what may or may not have happened many years ago when informers were very much part of the terrorist war in Northern Ireland is really something the court hasn't, in my experience, considered."
The judge, Mr Justice McCloskey, remarked: "As regards the Queen's Bench Division of the High Court it does represent the beginning of what may be a new wave of litigation."
The hearing will resume next week.