David McNarry says UUP colleagues have betrayed party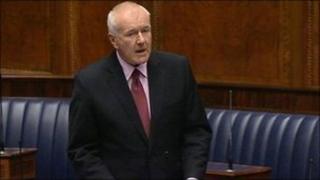 Ulster Unionist MLA, David McNarry has accused two senior colleagues of betraying the party.
It follows comments by John McCallister and Basil McCrea, who said they were unconcerned if Martin McGuinness became first minister should Sinn Fein become the biggest party after the election.
Mr McGuinness said he would consider a joint first ministry with Mr Robinson if this happened.
Mr McNarry called on his UUP colleagues to apologise.
"As far as I'm concerned they have betrayed me, and my party, and they make it difficult for me to stand as a candidate because of their action," he said.
"They have made it difficult for everyone.
"They've got to stand on the same platform, the same policies as I do, and as every other candidate will and they better apologise to the UUP."
Peter Robinson dismissed as an "electoral tactic" Martin McGuinness's offer to consider a joint first ministry if Sinn Fein is the largest party after the assembly election.
The DUP leader said the deputy first minister's comments were an attempt to "undermine" support for his party.
There has been speculation the DUP would refuse to serve under a Sinn Fein first minister.
Mr McGuinness said he was "somewhat surprised" by the reaction to his comments.