Murder victim Joanne Mathers husband to meet Robinson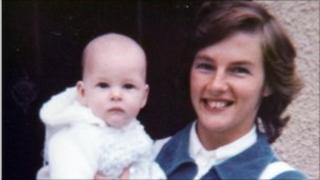 The husband of a woman who was shot dead in 1981 will meet the First Minister today to discuss the investigation into her murder.
Joanne Mathers, 29, a mother of one, was shot dead as she collected census forms in Londonderry.
Lowry Mathers said he hoped the meeting with Peter Robinson would lead to the case being re-opened.
It follows the confirmation by the Historical Enquiries Team that they will investigate Mrs Mather's death.
Mr Mathers, from Bready in County Tyrone, said it was time for the killer to be taken to court and sentenced.
"I would hope that there could be a good possibility that this case could be reopened sooner rather than later," he said.
"The person that did this murder has got off with it for too long.
"My message to that person is there's nowhere for him to hide. He is going to be caught. He is going to be convicted."
Mr Mathers' son, Shane, was aged only two when his mother was shot, but his father said he did not want him to have to live his life without seeing her killer brought to justice.
Mr Mathers said he believed that even now, thirty years later, there were people who could help bring about a conviction, and he said he had spoken to one of them.
"He gave me a ring and I met him in the town this afternoon, so hopefully this will mean more people like that will get in touch with the police.
"I'm sure there's quite a lot of people out there who will be willing to do that. Times have moved on and we are now in a different era."
He also said he hopes to speak to the head of the Historical Enquiries Team next month.
"I'm not going to give up on this," he said.