Royal wedding: NI councils make plans to mark the day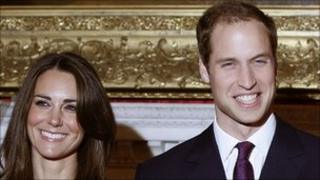 School children in County Antrim will be presented with a commemorative coin to mark the wedding of Prince William and Kate Middleton next month.
Newtownabbey Borough Council is to spend up to £2,800 on the coins to be presented to Primary 7 pupils.
Of the 26 councils in NI, Newtownabbey is one of six which have confirmed plans to mark the event. Others are still to decide and seven have said they have no plans or funds to mark the wedding.
Some councils have indicated they are considering making small grants to community associations.
Antrim Borough Council said it would send a gift to the couple.
Antrim said details of the gift have yet to be decided but there would be "no specific funding for applications for street parties or events".
Castlereagh Borough Council is to make grants of up to £1,000 available to 13 community groups.
Party packs
Groups of individuals not eligible for grants can apply for royal wedding party celebration packs containing flags, bunting, party cups, plates "and other party favourites".
The council said it had received 27 applications, 12 of which have applied for the grants and 15 for the party packs.
Dungannon and South Tyrone Borough Council said funding of up to £750 was available through its community festival grant. So far, the council has received two applications.
Fermanagh District Council said it has accepted applications for funding for events connected with the royal wedding under the council's annual festivals budgets.
These have been considered at committee level but the council's decision will not be ratified until next month's council meeting.
Lisburn City Council will award 10 grants to a maximum of £500 to communities wishing to hold parties.
In the event of the grant scheme being over-subscribed, the council said it would choose the grants by means of a draw.