GAA holds goal-line technology tests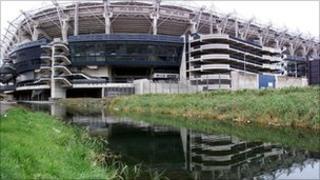 The Gaelic Athletic Association is to hold tests of 'goal-line technology' in two matches at Dublin's Croke Park at the weekend.
Hawkeye score detection technology will be tested at a gaelic football game between Dublin and Down and a hurling tie between Dublin and Kilkenny.
However, it will not form part of the score-keeping apparatus and will not be used by the match officials.
The GAA is describing its use as "suitability tests".
The association's Criostoir O Cuana said: "This is the next step in the feasibility study which will be presented to ard chomhairle (executive) which will ultimately determine whether or not the technology is deemed suitable for use with gaelic games.
"Having football and hurling here on the same day means using this date makes perfect sense but despite the presence of the equipment it will have no direct role in the game or bearing on how scores are recorded.
"The suitability tests are planned to determine the logistics of positioning and installation of equipment in Croke Park as part of the ongoing feasibility test surrounding the possible use of this technology."